History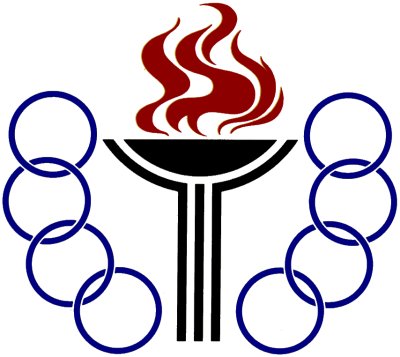 The idea of The Games of the Small States of Europe (GSSE) can be traced back to the year 1981. That year, at the Olympic Congress in Baden-Baden, Olympic Committees of eight small European states met for the first time to exchange impressions and work out ways to organize games especially designed for the size of their states. It was a widespread opinion that such Games could promote the spirit and the vision of the International Olympic Committee (IOC), as well as strengthen the friendship between the participating countries.
The GSSE were founded on the initiative of J.A. Samaranch, former President of the IOC. The decision was taken during the Los Angeles Olympic Games in 1984 and the statutes and technical regulations were drawn up. These Games are held, with little exceptions, in accordance with the rules and regulations of the international federations and the Olympic Charter and are supported by the European Olympic Committee (EOC).
The first Games took place in San Marino in 1985. European countries with a population of less than one million inhabitants can participate, if they have an autonomous Olympic committee and are members of the IOC. Participating countries are nine. Eight of them have a population of less than one million people. Now Cyprus has a population over one million, but had a population below one million in 1984. These countries are: Andorra, Cyprus, Iceland, Liechtenstein, Luxembourg, Malta, Monaco, Montenegro and San Marino. All the countries have participated since 1985, except Montenegro, which participated for the first time in 2011.
The Games take place every two years in one of the nine participating countries:

1985 San Marino
1987 Monaco
1989 Cyprus
1991 Andorra
1993 Malta
1995 Luxembourg
1997 Iceland
1999 Liechtenstein
2001 San Marino
2003 Malta
2005 Andorra
2007 Monaco
2009 Cyprus
2011 Liechtenstein
2013 Luxembourg
2015 Iceland
2017 San Marino
The year 2015 all eight founding members will have organized the Games twice. Hence it has been decided to start a third circle.
The number of participants is constantly growing and the Games are getting more extensive.
Along with the Games´s Executive Committee, a Technical Commission is working as well. The Chairman of the Executive Committee is the President of the NOC hosting the Games.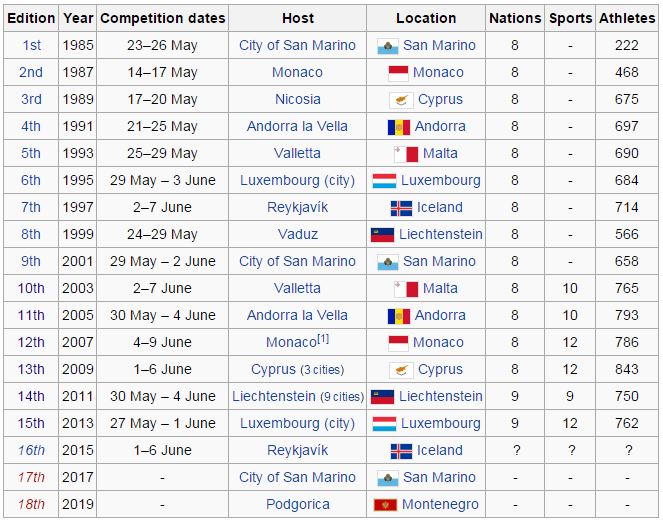 All-Time Medals Table